Let Us Host
Your Special Event
Consider SpringHouse for your next gathering, whether it's a birthday party for 12, a 25-guest business luncheon, or a 200+ cocktail reception. Our commitment to excellence ensures something truly memorable, offering several distinct event spaces as well as off-site catering options at venues within the Russell Lands umbrella. SpringHouse will present the cuisine, provide the service, and handle all catering details. We specialize in creating customized menus focused on seasonal ingredients to make a one-of-a-kind experience, anything from a multi-course dinner or buffet style meal to a cocktail reception. Our knowledgeable staff knows how to create a unique event that your guests will not soon forget. SpringHouse is ready to help you plan your next event—contact our Catering Director at 256.215.7088 to discuss the opportunities SpringHouse has to offer.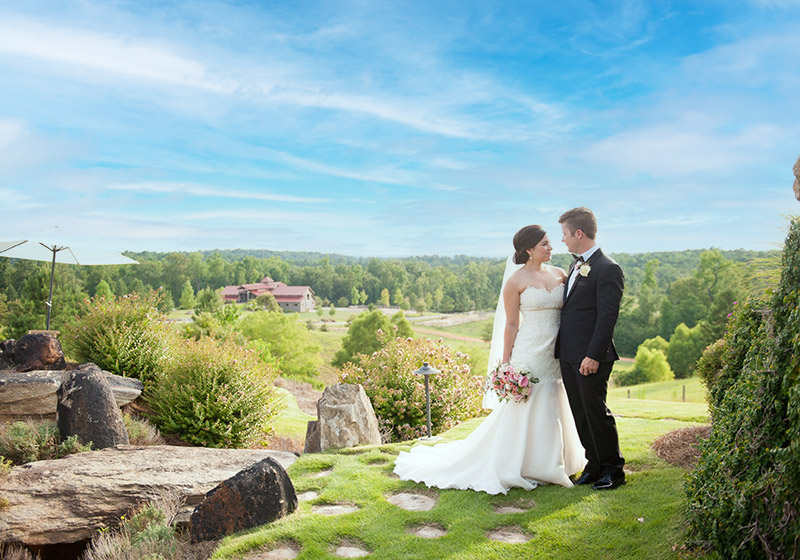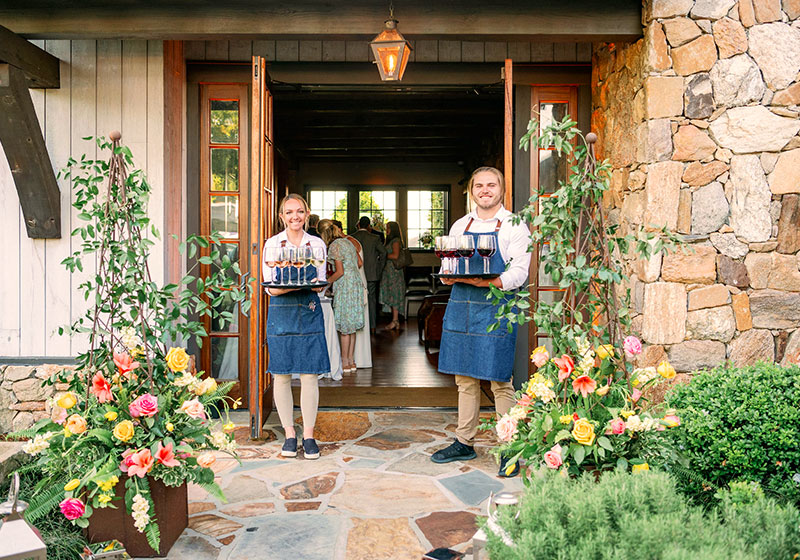 SpringHouse
Gathering Areas
A warm, inviting venue, SpringHouse offers stunning, panoramic views of lush rolling hills and five distinctive spaces. Architectural details like an exposed stone hearth, rough-hewn beams, hand-forged ironwork and carved granite reflect the beauty of its natural surroundings. That natural harmony is complemented by our fresh, Southern cuisine and a gracious, intuitive staff committed to creating unforgettable experiences.
Enter through the underground reserve wine cellar and step into the most unique private dining venue at SpringHouse. Suitable for parties of up to 12 people, the WellHouse is a circular room with a large, rustic table around which to gather for the finest in cuisine and personal service. When the rough-hewn door is open, the view spills out into an intimate garden overlooking pastures, The Stables, and in the distance, Lake Martin.
Please contact our staff to reserve the WellHouse for your private celebration. A room fee & cancellation policy apply.
Capacity 12 guests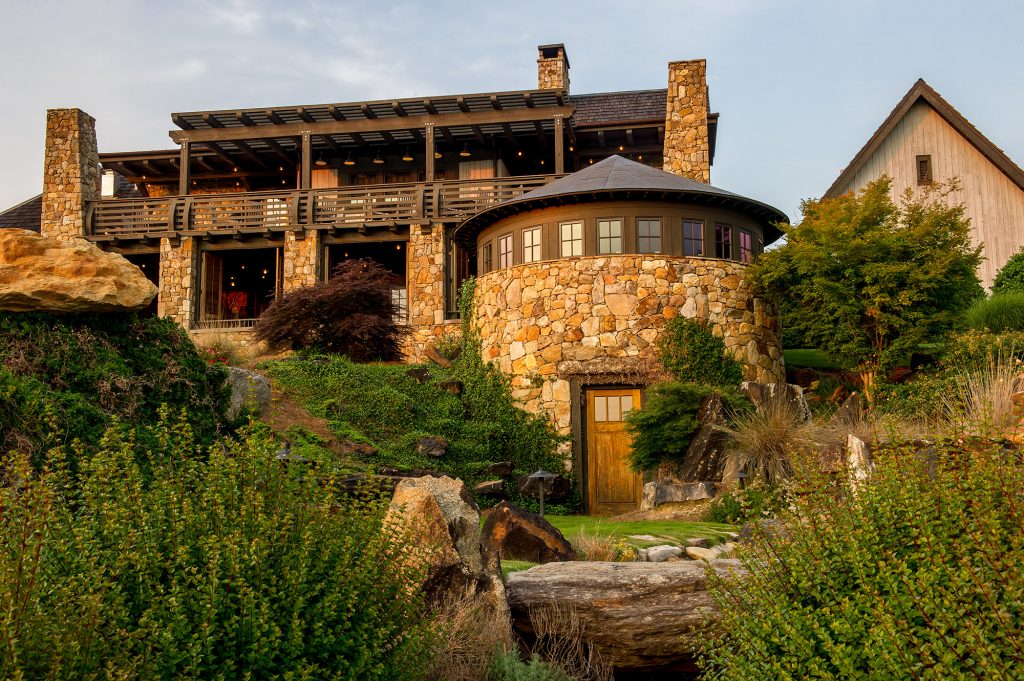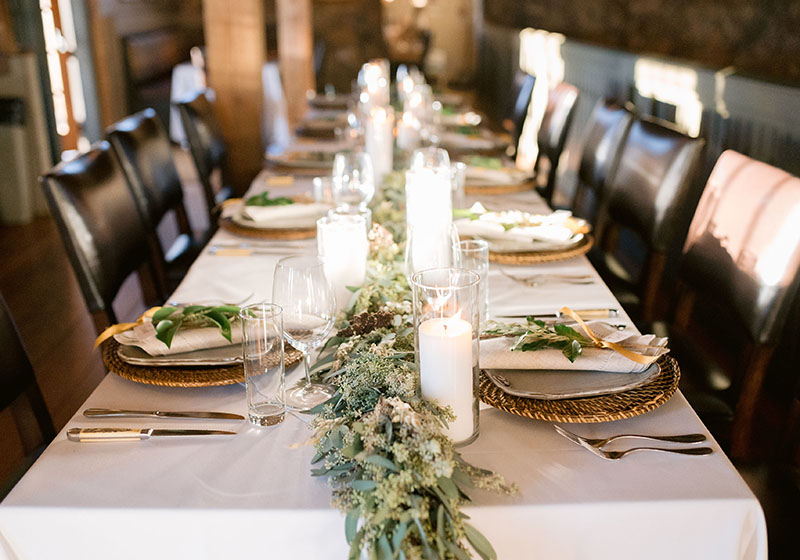 Just up the stairs from the main dining room, is our Promontory Loft, an ideal venue for rehearsal dinners, business luncheons, and bridal showers. The Loft boasts a full bar, flexible seating for up to 34 guests, and 40" TV for presentations. The outside balcony offers additional space for guests to mingle, with private access to the hill-top view of The Stables' lush pastures, the dense forest, and serene Lake Martin. The menu will be individualized and handcrafted according to each guest's event. Ask our Catering Director about all the possibilities the Loft offers. A venue fee applies, and a food & beverage minimum is required.
Capacity 34 guests
The Main Dining Room is the perfect place to host a wedding reception or other important celebration. Exposed stone & wooden beams, expansive windows, and open spaces give the Main Dining Room a rustic, casual feel that epitomizes SpringHouse's sophisticated yet unpretentious style. Warmth and energy radiate from the open kitchen, cozy hearth, and roaring fireplaces, creating a relaxed and comfortable atmosphere. Our friendly and experienced staff raise the bar by providing exceptional service and attention to detail, making SpringHouse the premier dining destination for Lake Martin. Please contact the Catering Director to discuss capacities and food & beverage minimums. A venue fee applies.
Capacity 120 (80 indoors, 40 outdoor patio)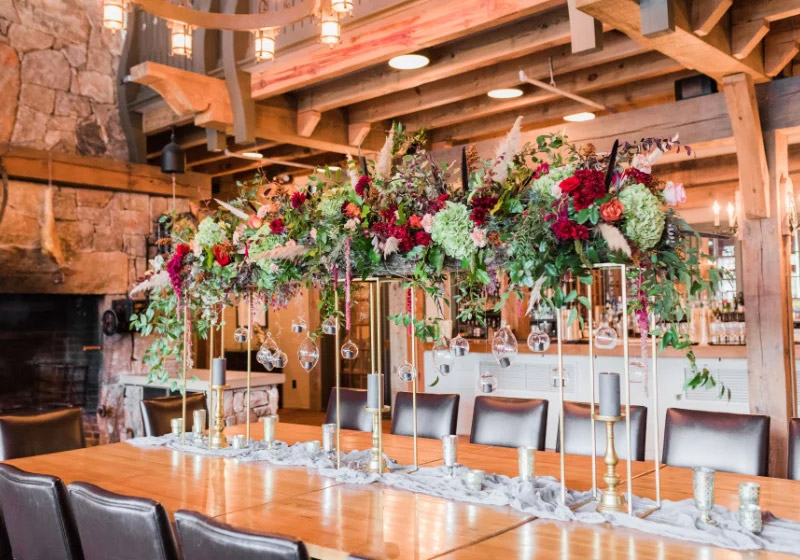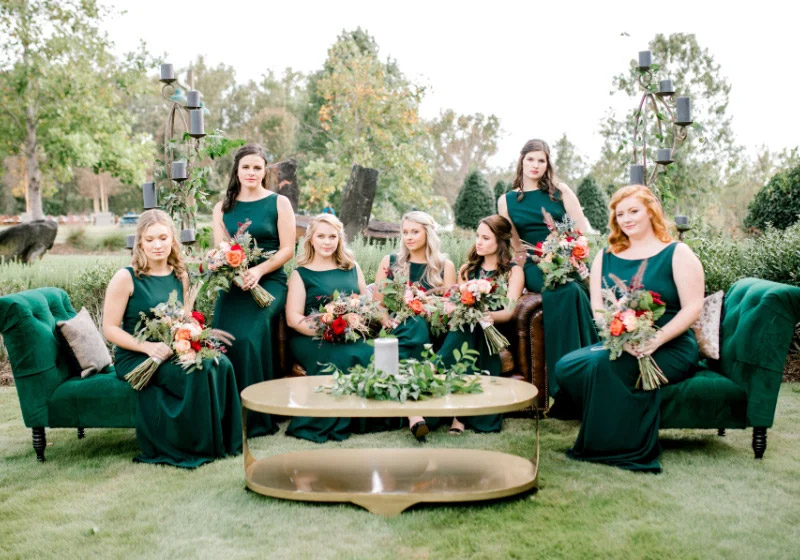 Imagine your ceremony, cocktail hour, or wedding reception on our lush Front Lawn. Just a step from the restaurant and bordered by rosemary bushes, the Front Lawn flows seamlessly to create an enveloped space for guests to celebrate together. Included with a full restaurant buyout or Main Dining Room booking, the Front Lawn is the premier spot for entertaining. Additional rentals required for this space. Food & beverage minimum applies for events restricted to the Front Lawn.
Capacity 80 Seated, 125 Standing
Nestled along the side of SpringHouse, the Vista Lawn is an expansive space overlooking hills and pastures. For wedding ceremonies, the flat, lush grass is a blank canvas waiting to be tailored to your unique style. A venue fee applies for non-buyout events. Weather permitting.
Capacity 400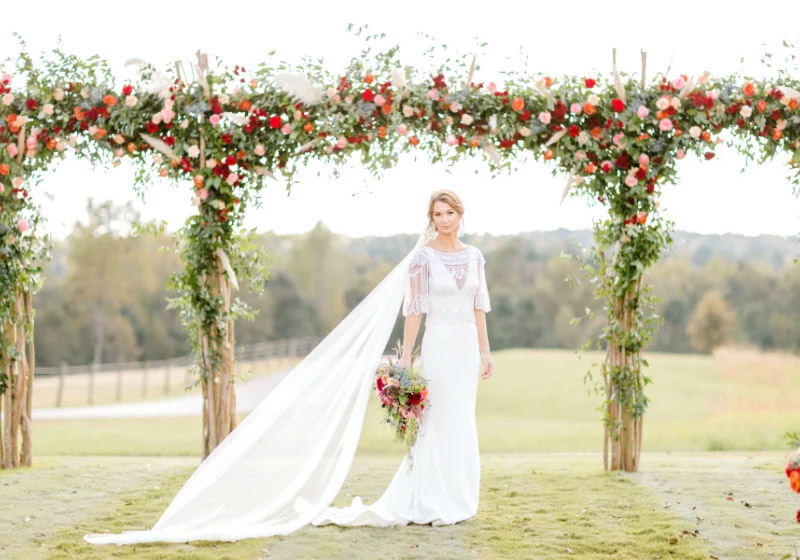 "SpringHouse and their staff provided the absolute best experience when hosting my daughter's engagement party. The food choices were phenomenal, and the drinks provided at the bar were fantastic. The view from the outdoor patio was the focal point of the night and being able to enjoy a drink while looking out over the hills and Lake Martin was the perfect experience for the occasion. The staff were extremely accommodating and worked with us to make the entire night special and one that my daughter and her fiancé will never forget. Once we arrived, we knew we were in good hands because of how attentive the staff were and how smoothly the whole affair went."
Jill J., mother of the bride
"Working with SpringHouse is more than just partnering with an average wedding venue or catering company. The team at SpringHouse cultivates a personal relationship with their couples (and vendors) in order to truly develop a personalized approach to hosting a wedding. From the custom and carefully crafted food and beverage menu to opening their doors and thinking outside the box when it comes to developing the layout and flow of the evening, the SpringHouse team truly cares about each and every detail of the wedding day."
Meghan, M. Elizabeth Events